Stop snoring from the very first night
Proven results with 94% satisfaction!
Oniris®: undoubtdely the best anti-snoring solution!
Already used by more than 200,000 people in France, ONIRIS® is a mandibular advancement device that will enable you to put an end to snoring and sleep apnoea.
It's a small appliance – a bit like a sports mouthguard or a dental tray – that gently holds your lower jaw in an advanced position while you sleep.
It thus keeps the air passage at the pharynx open and prevents the obstruction phenomenon that causes snoring and sleep apnoea. And the results prove it. With 94% satisfaction, ONIRIS® is the only self-adjusting anti-snoring device whose effectiveness has been proven by several independent clinical studies published in international journals.
The result: real effectiveness on snoring and sleep apnoea* from the very first night! This way, you can enjoy the pleasure of serene nights with your partner.
By reducing your fatigue, the ONIRIS® oral device also helps to make you aware of a sleep apnoea problem.
*If you have or suspect to be suffering from sleep apnoea, it is essential to consult a specialist in order to carry out a controlled sleep examination both with and without the ONIRIS® oral device to objectively confirm the effectiveness of the treatment.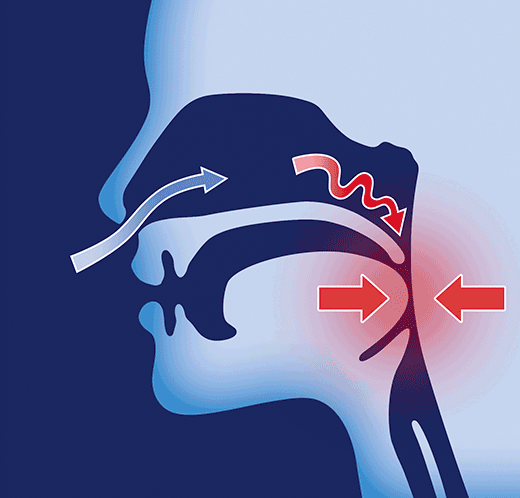 ONIRIS® puts an end to snoring!
With ONIRIS® air can circulate normally again.
Result: no more snoring!
Understanding ONIRIS® in a video
Thanks to ONIRIS® you will finally be able to:
The only self-adjusting anti-snoring device with proven effectiveness
Many anti-snoring products make empty promises. But ONIRIS® generates real results.
The ONIRIS® oral device is the only self-adjusting anti-snoring device whose effectiveness has been evaluated and proven in hospitals and clinics by sleep specialists, ENT specialists and dentists in France (1.2).
The ONIRIS® oral device is also the only self-adjusting thermoformed oral device whose effectiveness is no less effective than custom-made oral devices, which cost 10 times more.
These reliable and serious clinical studies have been carried out in practices, clinics and public institutions. They have been controlled by an independent laboratory based on protocols validated by the health authorities and a scientific committee made up of international experts in the field of Sleep, Dentistry and Biostatistics.
These rigorous studies have also shown that the ONIRIS oral devices offer excellent long-term tolerance:
93% of users have good compliance.
The Oniris oral device is worn 89% of the time. This means wearing it all night long 6 days a week.
3% of users do not report any discomfort and any discomfort felt is considered minor or insignificant.
97% experience no significant dental or joint impact.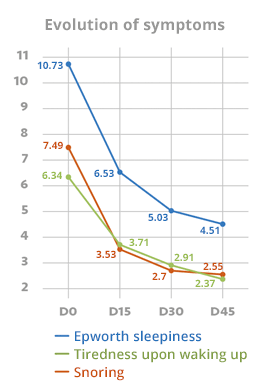 ONIRIS® effectiveness in figures:
(1) Marty, M., et al. (2015), Snoring and Obstructive Sleep Apnea: Objective Efficacy and Impact of a Chairside Fabricated Mandibular Advancement Device. American Journal of Prosthodontics. doi:10.1111/jopr.12401.  Prospective multi-centre open, uncontrolled study carried out within the Assistance Publique-Hôpitaux de Paris [university teaching hospital] with the main objective of evaluating the effectiveness of the ONIRIS thermoformed mandibular advancement device in 41 patients suffering from snoring and severe sleep apnoea syndrome, who  refuse or abandon CPAP. The duration of the follow-up was 45 to 60 days, controlled by an independent laboratory based on a protocol validated by the AFSSAPS [French Health Products Safety Agency], the Institutional Review Board Sud Med IV, the CCTIRS [Advisory Committee on Health Research Information Processing] and the CNIL [National Commission for Information Technology and Civil Liberties].
(2) Pépin JL, Raymond N, Lacaze O, et al Heat-moulded versus custom-made mandibular advancement devices for obstructive sleep apnoea: a randomised non-inferiority trial Thorax 2019;74:667-674.
The only self-adjusting anti-snoring device with proven effectiveness
The effectiveness and comfort of ONIRIS oral devices are based on 3 essential characteristics that only the best custom-made oral devices have offered up until now:
True freedom of movement
A genuine customised dental impression
Adjustment to the nearest millimetre
ONIRIS oral devices are the only thermoformed anti-snoring devices to combine these 3 characteristics.
This is why the effectiveness and tolerance of ONIRIS oral devices are equivalent to the best custom-made oral devices, which cost several hundred pounds.
Breathe normally at night
Thanks to its patented technology, ONIRIS® allows you to maintain a real freedom of movement during the night:
You can open your mouth normally without feeling embarrassed.
You can breathe normally throughout the night, even if you have a cold.
This is not the case with many other devices on the market that completely or partially prevent opening and breathing through the mouth. This is not only very uncomfortable, but also makes the device totally unusable if you have a blocked nose.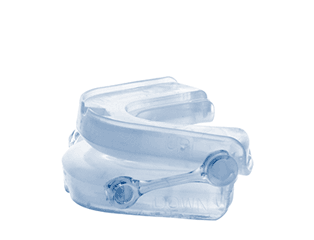 The oral device stays in place while you sleep
Between the times you open your mouth and the unconscious movements of your jaw during your night's sleep, there is a risk that your oral device may fall out during the night. This can wake you up and/or make you start to snore (since you are no longer wearing the oral device).
And this is what happens with many traditional appliances!
This is why ONIRIS® has been designed to stay in place during these natural movements. Consequence: Oniris remains in place during the night. It will not wake you up unexpectedly. And it provides anti-snoring effectiveness that lasts all night long.
ONIRIS® precisely adapted to your mouth…
Numerous clinical studies have shown this. To be effective and comfortable, an anti-snoring oral device must be adapted to each user's set of teeth.
This distributes the pressure over all the teeth, avoids tooth movement and pain, and allows the device to remain in place all night (thus maintaining its effectiveness). Unfortunately, this is not the case for many oral devices on the market.
ONIRIS® is the only ready-to-wear anti-snoring oral device that precisely adapts to your teeth thanks to a genuine custom-made impression, while offering real freedom of movement.
And do not worry, the process is very quick and easy. Everything is explained in the manual.
ONIRIS® is thermoformed in water. This means that after immersing it in hot water the medical materials become malleable. Simply bite down on the trays and they will fit precisely to your teeth.
And above all, there is no risk of error because the operation can be repeated! This means that if you have made a mistake or have new braces and your dental impression has changed, there is no need to buy a new anti-snoring oral device.  With ONIRIS®, it is simply a matter of retaking the impression!
With ONIRIS®, the quality of the "dental impression" is equivalent to custom-made oral devices made in the laboratory. And they cost several hundreds or thousands of pounds.
And most importantly, unlike these and other anti-snoring oral devices, moulding is very simple and can be repeated!
Moreover ONIRIS® is now systematically supplied in two sizes (standard and wide) for the same price! Just try on both sizes and choose the one that gives you the most comfort. This way you get a better fit and excellent comfort.

A video of ONIRIS® instructions of use
Why the custom-made ONIRIS® impression is so important:
...to the very millimetre!
For the same reasons that there are several shoe sizes, ONIRIS® is the only thermoformed anti-snoring oral device allowing you to customise your mandibular advancement from 0 to 11 mm with a 1 mm precision. It does this all while maintaining genuine freedom of movement.
This may seem a little technical, but in fact it is one of the criteria recognised and recommended (by the French Sleep Research and Medicine Society) to guarantee the effectiveness and comfort of an oral device. If the advancement is not adjustable, it will not fit your mouth and you will not be able to wear it. If the moulding is not deep enough, it reduces the effectiveness on snoring. And if the moulding is too deep, it can be uncomfortable.
That's why, thanks to its patented system, Oniris allows a real adaptation to your jaw and mouth, down to the last millimetre. The oral device has a simple, quick and easily re-adjustable moulding system.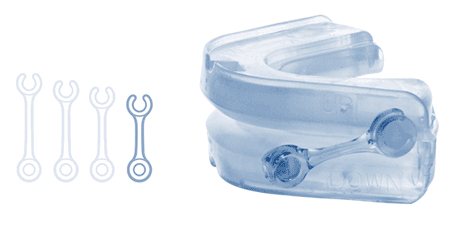 Why is the customised moulding of ONIRIS® so important:
The effectiveness and adaptability of a custom-made oral device... for a tenth of the price!
To treat snoring and sleep apnoea, in addition to self-adjusting oral devices such as Oniris, there are custom-made oral devices. They are made individually, from a dental impression taken by your dentist.
Custom-made oral devices are very effective and comfortable in the long term. We can assure you, our laboratory has specialised in their design for more than 10 years and has been approved by the French National Authority for Health for our custom-made TALI oral devices.
The problem is that custom-made oral devices are very expensive! Over £1,000 including manufacturing and appointments with your dental specialist.
An amount that is often only partially reimbursed and only if you have been diagnosed with moderate to severe sleep apnoea. Moreover, only 5% of dentists are trained to custom fit oral devices. It is therefore sometimes difficult to find one and waiting lists can be long.
This is why we wanted, based on our expertise, to design a self-adapting oral device that prevents snoring and sleep apnoea and that is accessible to all but with an effectiveness and comfort level equivalent to a custom-made oral device. This way, you save hundreds of poundsfor comparable results.
Oniris, the result of 10 years of expertise
ONIRIS® has been developed from our expertise of more than 10 years in the design of custom-made oral devices against snoring and sleep apnoea, approved by the French National Authority for Health.
It is thanks to this expertise, as well as continuous work with research institutes, independent laboratories, dental experts, ENT and sleep specialists, that we have managed to take the best of the custom-made oral devices that we manufacture in the laboratory to develop ONIRIS®, without doubt the best mandibular advancement device against snoring or sleep apnoea.
Today, with more than 200,000 patients fitted with ONIRIS® oral devices all over the world, our laboratory is a leader in sleep dentistry.
A French design of medical quality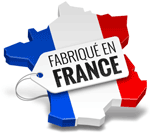 Unlike other products on the market, the ONIRIS® oral device is manufactured in France in compliance with the international medical quality standard ISO13485.
This means that its manufacturing process has been approved by an independent body, which has certified its safety and quality.
In addition, unlike many other anti-snoring devices it is made of flexible medical materials, CE certified and FDA approved, BPA-free, latex-free and silicone-free to give you excellent long-term safety.
ONIRIS® is undoubtedly the best anti-snoring device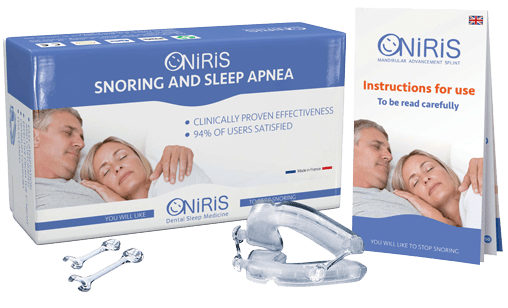 ONIRIS – Class I medical device manufactured by ONIRIS SAS and indicated in the treatment of snoring and sleep apnoea – Read the leaflet carefully before use – Ask your doctor or pharmacist for advice. This medical device is a regulated health product which, under these regulations, bears the CE mark.