Treatment of snoring and sleep apnoea with a mandibular advancement device
Sleep apnoea and snoring have many negative consequences for the person affected. How to fight against snoring and sleep apnoea? We are talking about a solution full of advantages: the mandibular advancement device. What is a mandibular advancement device? Who is it for? How to choose it? After reading the next few lines, you will know all there is to know on the mandibular repositioning tray.
What is a mandibular advancement device (MAD)?
How to stop snoring? There are several solutions to stop snoring. One of them is to wear a mandibular advancement device. This anti-snoring device, or MAD, is a dental device. It is a tray designed on the basis of impressions of the maxilla and mandible, or an adjustable device. They are mostly custom-made and keep the lower jaw in an advanced while sleeping.
In this way, the oral device frees up space in the airways and promotes the passage of air through the pharynx. The mandible is repositioned with the tongue facing forward; this helps to reduce respiratory resistance during sleep. This type of oral device is prescribed in many cases.
The oral device is easy to use: once your teeth have been brushed, simply place the clean tray in your mouth. By applying a small amount of pressure from the bottom to the top, the tray fits into place and stays in place during the night. One of the main advantages of the mandibular advancement device is that it is effective from the very first night it is used.
Who is the mandibular advancement device for?
The mandibular advancement device can be used to treat  snoring and mild to moderate sleep apnoea. It is also sometimes prescribed for people suffering from severe sleep apnoea and those who are often on the move. This is because it can be difficult to transport a bulky respirator when on holiday or on business trips.
It is also suitable for people suffering from severe sleep apnoea who cannot tolerate or refuse CPAP (night-time breathing assistance device) treatment. Oral devices can also be used to preserve the condition of the teeth in the event of bruxism (rubbing and grinding of the teeth during the night).
The different types of anti-snoring dental trays
There are several types of dental trays. Some are available on medical prescription, while others are sold on a self-service basis. Each of these oral devices have different special features.
The custom-made mandibular advancement oral device
Custom-made devices are prostheses that are prescribed and made by a prosthetic laboratory from impressions provided by an orthodontist or dentist. It is a removable appliance, made directly from models of the patient's teeth. This moulding allows the creation of a custom-made tray, perfectly adapted to the patient's jaw and teeth. After a short period of adaptation, it does not alter the quality of sleep, nor does it interfere with falling asleep, and it is very easy to clean.
The device should be worn every night, or at least every other night (depending on the patient's condition). Custom-made oral devices are expensive: more than £1,000 for a tray.
Standard anti-snoring tray
It is possible to find standard oral devices. They can be bought over the counter, in pharmacies or online. Some can also be provided and adapted by a dentist or ENT specialist. Sold at affordable prices, these dental trays offer a wide range of effectiveness or comfort depending on their design.
Here are a few tips to help you decide:
Choose models that allow impressions to be made, so that the trays are well adapted to the morphology.
The adjustment of the advancement is also an important choice criterion, which allows the device to be adjusted to its morphology according to the effectiveness obtained.
The possibility to perform jaw movements is also a plus from a comfort point of view. All custom-made models allow for this and this is probably not a coincidence.
Above all, reference should be made to the clinical studies carried out on the oral device. The companies that have carried out this type of study generally put it forward because it is a guarantee of seriousness. These studies are essential to determine the real effectiveness of a scheme and, if it is high, to obtain approvals such as reimbursement by social security. Only one model of standard oral devices in the world has been reimbursed by a social security organisation: the Oniris oral device.
Standard oral devices that meet these criteria improve ventilation and allow better night-time breathing. These trays are put together by a mechanism and are adjustable. They are easily adjusted to the jaw: the position of the mandible can be comfortably adjusted. It is a powerful and effective mandibular repositioning device.
Mandibular advancement oral device: the medical community's opinion
Oral devices are among the solutions recommended by many health professionals to treat sleep apnoea, bruxism, or to prevent snoring. However, standard models, with a few rare exceptions, are not recommended and the medical community currently only agrees on the effectiveness of custom-made models and one or two standard oral device models.
It is indeed a practical solution: small in size, the tray is easy to transport, easy to maintain and effective. It is also an easy medical solution: simply place the tray on the teeth before going to sleep. The oral device does not interfere with falling asleep and does not affect the quality of sleep.
It is also a gentler solution than radio frequency treatments and other surgical procedures. As you can see, the mandibular advancement device is a perfect solution to treat snoring and sleep apnoea. We advise you to consult a specialist or your doctor before considering buying a mandibular advancement device, as they will be able to direct you towards the device best suited to your situation.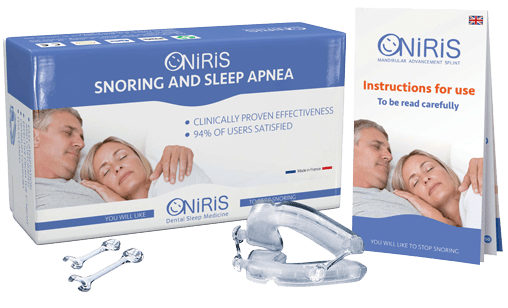 ONIRIS – Class I medical device manufactured by ONIRIS SAS and indicated in the treatment of snoring and sleep apnoea – Read the leaflet carefully before use – Ask your doctor or pharmacist for advice. This medical device is a regulated health product which, under these regulations, bears the CE mark.